Since 2013, our team made up of healthcare and physical therapy professionals, researchers, content creators, and developers has been working together to publish the best free content and resources for aspiring physical therapist assistants.
Everyone researching, pursuing, and advancing in their physical therapist assistant career is in the right place.
At the PTA Guide we are dedicated to helping you find schools, get your degree, become licensed, and land your dream job.
Welcome to the PTA Guide!
Our Other Sites
In addition to the PTA Guide, we publish the following free education and career resources for healthcare students and professionals.
---
How We Help
Our team creates the best free content and publishes the most accurate and recent data for physical therapist assistants.
Researching PTA Schools online can be a tedious process.
Upon graduation, trying to determine all of the requirements for your State's PTA License Application can also be difficult as many state and local government websites are outdated and hard to navigate.
On top of this, learning which city you would receive the highest compensation in and finding jobs in that location is also time-consuming.
So, the PTA Guide was created to help you find all of the information you need to receive an accredited physical therapy assistant education, become a licensed PTA in your state, compare salaries and find job openings for PTA.
All in one place. Quickly and easily.
What We Offer
We aim to offer clear concise resources on all things related to physical therapy assistants including:
Our Data and Content
We research, analyze and maintain accurate data to publish content and tools that are used by colleges, students, and professionals. Our data and content are regularly cited and featured by universities and media outlets such as CNBC, Wikipedia, The Penny Hoarder, and more. This information helps you compare physical therapy assistant programs, guide your education as a PTA student, submit your licensing application, and find a job to begin your career as a physical therapist assistant.
Salaries: We research, analyze and publish salary data from the United States Bureau of Labor Statistics, Indeed, Salary.com, Payscale, Glassdoor, and ZipRecruiter.
Schools: We maintain accredited physical therapist assistant school data from the Commission on Accreditation in Physical Therapy Education (CAPTE). Additionally, any state or national certification information comes from state government offices and the Federation of State Boards of Physical Therapy (FSBT).
Licenses: We maintain a database of state licensing requirements, fees, and application forms for all 50 US States.
Jobs: We partner with ZipRecruiter to provide up-to-date PTA job listings across the United States.
Accuracy: The PTA Guide strives to be the most up-to-date and accurate source of information online for physical therapist assistants. To help us maintain up-to-date data and we ask that you submit any feedback or request updates through the contact form below.
---
Who We Are
The PTA Guide website is run by a group of individuals who are passionate about physical therapy, education and career advancement. Our team of physical therapy experts, researchers, writers, editors and developers work together to keep the PTA Guide the leading online resource for physical therapist assistants.
Natalie Breeze, Certified OTA
Expert Contributor
Steve Johnson, PTA
Chief Editor
Read Steve's Articles
Brian Dickens, MBA, PhD
Expert Contributor
LinkedIn
Read Brian's Articles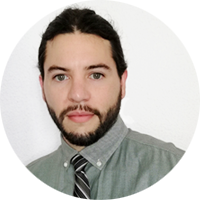 Keller Tiemann
Developer
LinkedIn
Crystal Smith, MA
Content Manager
LinkedIn | Medium
Read Crystal's Articles
Chris Jackson, MA
Editor
Ask me Questions on Quora.
Read Chris' Articles
Why We Do It
We make it easy for those interested in becoming a physical therapist assistant to quickly meet all of the requirements to begin a career as a PTA.
There are many opportunities for PTAs to work in a wide variety of industries and settings. So, we also want to help expose the versatility of PTAs so that students can become aware of the many options one may have should they choose to pursue a career in physical therapy. So, whether you like sports medicine or elderly care, there are physical therapy assistant positions for you.
Finally, we know that a 4-year college degree isn't for everyone. However, it can be difficult to find a high-paying salary without a college degree. No fear, PTA school is here. PTA school oftentimes only takes 2 years to complete and the average annual income of a PTA is $58,720.00. So, becoming a physical therapy assistant is both lucrative and rewarding. Becoming a PTA can be your ticket to a terrific career while bypassing a traditional college degree.
How We Keep it Free
We believe that quality information to help students complete their education and begin their careers should be free. We never plan to charge a fee to use our website or access our content. In order to pay for our costs to host and maintain physical-therapy-assistant.org, we do accept small fees from Colleges to feature their sponsored programs on some pages of our website. Next to any featured schools, you will see a label that says "Sponsored Ad".
---
How Can We Help You?
If you'd like to contribute to the PTA Guide or work with us in some way please reach out through the form below. You may also use this form to contact us for any reason, whether it be to ask a question or give feedback.
Thank you for stopping by our website, we are thrilled to have you here! We hope you enjoy the PTA resources we have put together for you and good luck on your path to becoming a PTA!
---
For updates on the platform of your choice, you can follow us on these other online platforms.